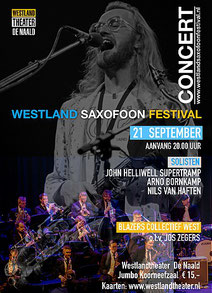 On September 21 the 'new' piece Materia Prima will premiere during the Westland Saxophone Festival. The piece has had an incubation periode of 8 years. Only to return at the end of this periode to its original form.
Although the term Materia Prima is a notion from alchemy,  for me it was mainly about the rather literal meaning of 'first material'. Composers often call the first sketches, a structural idea, a composition process 'the material' with they develop, the raw materials that will evolve to a composition.
In that sense, the piece could also be called Idea January 11, 2011. That day I wrote a spontaneous sketch with an enormous drive. Rough, uncut, stubborn, relentless. The sketch wás the composition, but I didn't know that for years.
Later I made an equally rough version for brass and percussion, intended as part of a still to be finished concept album The Dreams of Wofgang Pauli,  an album about the therapy sessions of the brilliant physicist Pauli with the famous psychiatrist Carl Gustav Jung.
I still thought: "it is material, the music still needs to be developed further". But every time I was drawn back to that raw original version, which sounded  simply the best.
In 2015 I made a further developed version for strings and piano for the National Celebration of the Liberation. It ended up in that way as the third part of the composition Momentum. The music is very different than the two first drafts and can be seen as a completely new composition. But even after finishing this piece, the the roughness and stubbornness of the original kept appealing.
In 2016 the three movements of Momentum were reworked for the Moscow Contemporary Music Ensemble (piano flute, clarinet, violin & cello) who premiered this piece in Moscow and Nizhny Novgorod. Both versions - for strings & piano and for quintet were published by Donemus.
I also fooled around with electronica and virtuel instruments, as an experiment and sort of research what I could do with the original sketch in a completely other context.
At the beginning of 2019 I finally made the decision (or finally had the guts) to see the material as it was as the final composition. It is incredibly cool that the Westland Saxophone Festival will premiere the piece.
When I came up with the title Materia Prima last spring, I was surprised to find that the term is also important in Jung's ideas and played a role in his sessions with Wolfgang Pauli. As if everything falls into place after more than eight years.
Douwe Eisenga
September 2019
I hope to see you at the premiere on September 21. Everything about the Westland Saxophone Festival can be found here