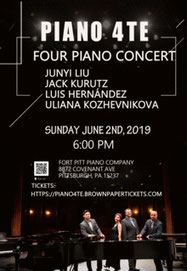 Within a few days I'll travel to the USA again. The Pittsburgh-based 4 Piano Ensemble Piano4te will perform the world premiere of my Les Chants Estivaux from 2009. Yes, after about 10 years this is the very first time that this piece wil be played in its original 4 piano setting.
 
Les Chants Estivaux was written on request of the Dutch pianist Kees Wieringa. It was intended as a really quadraphonic piece for the the FourGrandPavilion from the Dutch artist Dré Wapenaar. A big pavilion with four grand pianos in each corner surrounding the audience. 

But it never happened, before finishing the piece, the whole project was canceled.

It didn't mean the end of the Chants. I recorded the piece with pianist Jeroen van Veen, multi tracking each piano-part for the album The Piano Files. Later on,  the music was performed by Jeroen & Sandra Mol in the project Space & Rhythm by O+A and Ko van Dun. This was a performance with two pianos and backing tracks.
A few years later the harpist Lavina Meijer en pianist Feico Deutekom did several tours doing a rather virtuoso version for two players.

The piece and album were very well received. Especially the Canadian blog Textura was almost blown over.
"Though The Piano Files is strong from start to finish, the most striking setting is "Les Chants Estivaux" (The Summer Songs). Scored for four pianos (all played by Jeroen van Veen), the quadraphonic composition advances with insistent determination as it traverses multiple peaks and valleys over the course of its long journey. The material chimes incandescently as its interlocking patterns escalate in volume and intensity, and the piece grows ever more hypnotic as piano layers are added. As fine as they are, the other pieces can't help but be overshadowed by a piece so towering and the pianist's bravura performance of it."

And now Piano4te - Junyi Liu, Luis Hernandez, Uliana Kozhevnikova & Jack Kurutz - are doing Les Chants with 4 pianos for the first time (although  not in a quadrophonic set-up. The first concert is in the venue of the Fort Pitt Piano Company on Sunday,  June 2,  starting at 6 PM. For tickets, go HERE

To prepare for the concert I will give a masterclass / public rehearsal on Friday,  May 31 in the same venue, starting at 7 PM
Two weeks later the ensemble is traveling to NYC to do the same concert in the Klavierhaus. Saturday,  June 15 at 1 PM. For tickets, go HERE

I'm very happy to be able (supported by The Performing Arts Fund NL) to attend this first 4 piano version and thankful to the guys of Piano4te that they've picked up the challenge to play this 'towering' piece!