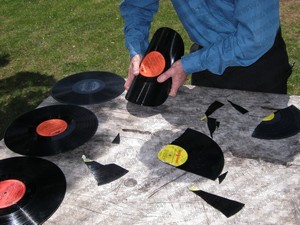 I'm very happy that in my entire career, I almost always got very positive reviews. Of course over the decades there's also a handful of negative ones. However, never ever someone wrote such  bitter words about my music as Tjako Fennema did for Opus Klassiek, when he reviewed my latest album For Mattia.
Warning ! If you like the Third Symphony by Gorecki, or Einaudi or Canto Ostinato by Simeon ten Holt, I wouldn't read this review.

Here's the review in Dutch. Below I added a quickly written (and hence perhaps a bit clumsy) translation.

If you don't know the album yet, you can listen to the album in the player below. Or go to Spotify.
I'm very, very, very curious about your opinion about this review !!!! Please leave you comment below. Thanks, Douwe
REVIEW IN OPUS KLASSIEK - TJAKO FENNEMA

Douwe Eisenga's album and CD are beautifully presented! A feeling of luxury flows through the veins when you open the DVD digipack triptych with a CD, but above all while unpacking the 180 gram virgin white LP in a flip cover. The choice is up to the buyer. The typography of both packages is exemplary, the words of thanks and reverences are overwhelming but nothing about composer and pianist Douwe Eisenga (1961). He studied in Groningen, already wrote a large-scale requiem, a piano concerto and works for a variety of instrumentations, in which, among others, the Aurelia saxophone quartet and the Cello8tet collaborated.
Anyone wading past Gorecki's Third Symphony and not yet fed up with pensive music may end up with the searching, babbling and endless sounds of cult pianist / composer Ludovico Einaudi. For your reviewer, that is the moment when he drops out. It is too universal suffering. But it is widely supported, as witnessed by the impressive sales figures of his CDs. It has been around 40 years since New Age Music was introduced. If we stay within our borders, then Ten Holts Canto Ostinato from 1976, which came to full bloom at the end of the last century with lots of and performances of all shapes and sizes, preferably to listen to in groups on a mattress on cold church floors. But that composition is also in my allergy corner, so be it. There is certainly a new audience for it and I am also surprised that all of this repertoire has its own sales outlets, locations where incense smell and henna compete for priority and where the Happinez magazine is eagerly grabbed. That kind of places! Is it all too vague to me or can't I keep up with the spirit of the times?
Nothing but praise for the piano recording of Douwe Eisenga that was made with great care and with the best recording equipment, with perhaps a fraction of too much (artificial) reverb. The project is also available on sheet music and furthermore in all digital formats. The LP sounds a bit different than the CD, but the variables for both LP production and playback (the pickup element) are therefore larger than for the CD. It is also worth noting that the LP is pure white and the label pitch black, a special experience to put such a thing on the turntable!
I have forgotten the source for a moment, but the story is about a composer who plays for a well-known critic's his latest work: "What do you think?" is the question. "45 minutes 4 seconds" is the answer and I agree , regarding this production.
Postscript
To clear my ears from this difficult listening exercise, I put a CD with Scarlatti Sonatas / Ivo Pogorelic in the CD drawer. A blessing for the ear, I notice. Until two adolescent neighbor girls step in: "what a nervous music, sir!"