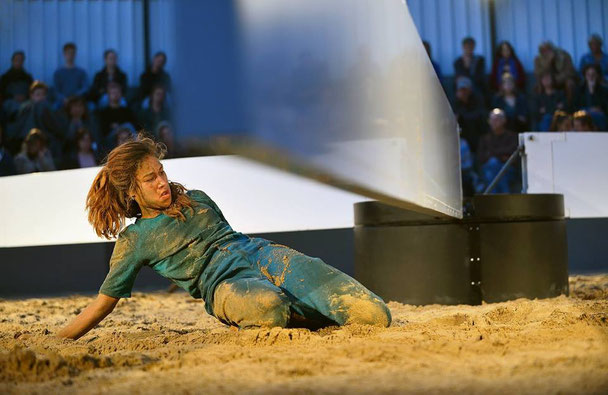 Photo by Jochem Jurgens 
Wiek is going to Belgium. The show will be performed about 20 times during the festival De Zomer van Antwerpen (The Summer of Antwerp).
It was a festival-hit in 2009, and for many a legendary performance that lingered for years as the ultimate location performance: Wiek van Schweigman &. In Wiek, three female dancers end up in a space of horizontally rotating blades. They get caught in it. The audience sits around and thus closes the escape possibility; the dancers can not help but confront. The spectator is made complicit in the inevitability that these dancers end up in: a fight of the puny man against forces that are greater than themselves.

Boukje Schweigman is known for her ability to take the audience to a poetic twilight zone in which the senses are sharpened. Wiek set the tone for Schweigman's universe in which images, movement and the music of Douwe Eisenga fuse together. Wiek is now being re-created with a new cast and new insights and can be seen successively in Utrecht and Zeeland.
The Dutch press:
PZC :  'Breathtakingly beautiful....At the foot of a wind turbine, Wiek van Boukje Schweigman wallows on music by Douwe Eisenga. Enchanting, compelling, inescapable....Driving rhythms, almost hallucinatory repetition - so beautiful'
Trouw :  'Boukje Schweigman develops as the original theatrical thinker who has the special gift to lift her performances far above the experience: all the senses open up to the layer that is most difficult to reach - that of mysticism.'

Volkskrant 'Wiek is a magical ode to the cyclic movement'

De Telegraaf 'An almost hypnotic theater experience. The dancers deliver a physical top performance '
NRC Handelsblad 'Theatermaker Boukje Schweigman and Wiek presented an original and brilliant idea. (...) This is where poetry and threat come together. The players and dancers do not make it easy for themselves. Therein lies the secret of convincing theater. '

De Groene Amsterdammer 'The liberation is enchanting and at the same time a hard blow: it is over. What keeps on is shivering about so much beauty. "

Credits Wiek 2019
concept and direction Boukje Schweigman | composition Douwe Eisenga | decor and lighting design Theun Mosk | performers Audrey Apers, Camilla Bundle, Marinke Eijgenraam, Luana van Eekeren directing assistant and co-creator Swantje Schäuble | costumes Esmee Thomassen | sound design Dennis Slot | dramaturgy Alex Mallems | business management Rachel Feuchtwang technique Jurr van Diggele, Jeroen van Heijningen | production Yoni Vermeire | education Anemone Oostvriesland interns Lisa Groot Haar, Rachel Schuit, Célinne Moza |
 
For more info and tickets : GO HERE