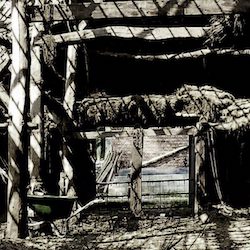 New Music Blog Textura published a review about the new short album Moving the Barn.
If you're familiar with DownBeat magazine's annual International Critics Poll, chances are you're also familiar with its 'Rising Star' category, which for years went by the name 'Talent Deserving Wider Recognition.' (In a recent poll, for example, Mary Halvorson not only topped the guitar category but also received three 'Rising Star' recognitions for jazz artist, jazz group, and composer). I'm reminded of the category as I listen to the music of Dutch composer Douwe Eisenga, who's no doubt well-known and appreciated in his homeland but deserving of greater recognition internationally.
While a short twenty minutes in length, his latest release, a digital four-part work for strings, piano, percussion, and samples created for the film documentary De Verhuizende Schuur (Moving the Barn), speaks highly of his gifts as a composer and melodist (produced in 2013, the film itself concerns a man who disassembled a barn piece by piece to later rebuild it at another location). Years before his move into full-time classical composing, Eisenga enjoyed a brief career in pop music, after which he studied composition at the Conservatory in Groningen. His profile has grown during the past decade with performances of his so-called 'Maximal' music having been given by pianists and ensembles (the Aurelia Saxophone Quartet and Belgian ensemble Origami examples of the latter) in America, Canada, China, and Europe.
With the composer on piano accompanied by Petra Flipse on violin and viola and Marieke Langkamp on cello, Moving the Barn serves as a fine representative example of Eisenga's style. The ponderous opening part pairs elegant piano patterns with plaintive string expressions by his partners, the elements combining to form a lulling, melancholy, and slightly mysterious whole. More rhythmically insistent by comparison is the third, where syncopated mallet and string patterns dance breezily, whereas the fourth concludes the release with Romantic string gestures and animated pulsing rhythms executed using both drums and percussion.
Anything but off-putting or austere, Eisenga's music engages the listener from the first run-through, and also manages to be unapologetically melodic with no compromise to the sophistication of the writing. It's easy, in short, to visualize a score as melodic and evocative as this one being used for the aforesaid film project.