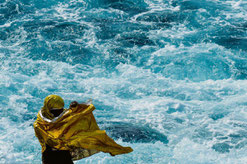 December 8, 9, & 10 Prime presents their production zeventien | 17,  installation and concerts in the Aa Church in Groningen (NL). Three hundred years ago, on Christmas Eve,  the North Sea coastal area was hit by storm floods. The Christmas Flood of 1717, which took thousands of lives, was the greatest natural disaster to strike the Netherlands in four centuries. A good reason to reflect on the force of nature, then and now.
The Ballad of the Salt Water
On December 10 is the premiere of a new work by Douwe Eisenga, The Ballad of the Salt Water, in combination with music composed by Eric Whitacre, Emil Råberg and Peter Gabriël.   Eisenga composed The Ballad of the Salt Water for organ and three choirs. The piece was inspired by three poems by Federico Garcia Lorca about the sea and her victims.
The Ballad of the Salt Water and other pieces associated with the 1717 Christmas Flood will be performed consecutively without an intermission. The different musicians will be placed at different positions in the Aa Church and the audience can follow the sound of the music.
Light installation
Central to the production is the kinetic light installation that media artist Dennis Molema created for the chancel of the Aa Church. This project visualizes high water and the impact of a natural disaster. The string ensemble Shapeshift and Slagwerk Den Haag, a percussion group, will be joined by several choirs to provide the installation with an exciting soundscape.
Performers
Noordelijk Vocaal Ensemble conducted by Leendert Runia
Jong Vocaal Groningen conducted by Merlijn Wackers
Tous les Oiseaux d'Europe conducted by Hans Kaldeway
Eeuwe Zijlstra – organ
Jarick Bruinsma, Leon Giethoorn, Pieter Mark Kamminga, Jeroen Oosterwijk – percussion
Time: 4 p.m.
Admission: € 12,50 / € 7,50
Tickets available here