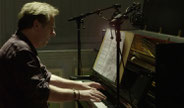 On Sunday, August 27th, I will do something I have not done for decades: performing my own music.
For long I thought that this was nothing for me. That composing was my passion. That performing my music could be done better by other musicians. But something changed. In recent years I wrote a lot of music for piano solo. At the moment there are almost thirty Simon Songs, there is a suite from The Barn, music from Wiek, from The Writer, his Wife, her Mistress and the brand new piece For Mattia. And while in particular the Simon Songs are becoming more and more popular, I also have incredible fun to play them myself.
 
Since I stopped with my job as director of the Zeeuwse Concertzaal, I have more time to do so.
However, playing piano at home is something very different from doing this in public. After months of pushing, friend and singer-songwriter Tonnie Dieleman finally managed to convince me. Somewhere next fall, together with some other artists, we going to do a concert,  surprisingly in my 'own old' Concert Hall.
 
The performance of next Sunday came unexpectedly in between. During the Houten Koppen Festival (Wooden Heads Festival) in the Grote Kerk in Veere, organized by visual artist Marijn Kluijfhout, there will be 12 short acoustic performances. Participating musicians are Peter Slager, SOLOF, Mario Hillebrand, Tricycle, Bert Dorrestijn, Gijs Teuwsen, Soort van Sven, Peetman and me. The festival lasts from three o'clock in the afternoon to eleven o'clock in the evening. We all play 2 sets of about 20 minutes. The schedule is not ready yet.
 
So, one week to go. Hope te meet you there. After all these years I find this incredibly fun. And highly exciting!
BTW the pictures are stills from a movie by Gijs Haak.