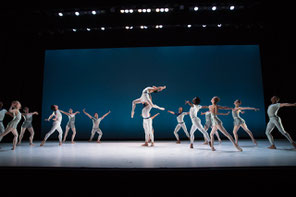 (photo by Travis Magee)
This weekend Claudia Schreier & Company did two shows, full of Claudia's amazing choreograpies, in the Joyce Theatre in New York. The final piece at both evenings was Claudia's large-scale ballet Charge, set upon the last movement of my Piano Concerto. Philip Gardner of Oberon's Grove wrote a review, which you can read here.
About Charge : 

"...The evening ended thrillingly with CHARGE. Douwe Eisenga's Piano Concerto, Movement III is the musical font from which this choreographed blessing flows. It is a work for large ensemble, and every dancer in that ensemble matters. There's no standing about or idle promenading: this is a ballet that is meticulously structured yet seemingly bursting with spontaneity. The eye is constantly allured from one heavenly body to another as Claudia's bevy of ballerinas and their handsome cavaliers flash thru the combinations and partnering motifs with élan.
The driven pace of the music - with fleeting moments of sparkle - propels various smaller ensemble sub-divisions into a vast tapestry of dance. Visual polyphony has seldom been so appealing: with endless comings and goings, one hardly knows where to settle one's gaze next....
....the entire audience stood up and literally screamed at the top of their lungs. It seemed actually that the roof might cave it. Such delirium, and so well-deserved."
The Piano Concerto is released on the Album Rose Road - City Lines.