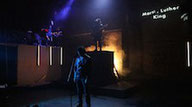 Excerpts from City Lines are currently used in the theatre play LF Celine Fragmentation I by Damien Dobbeleer. The performances are from April 12 to 24 at the Theatre de la Vie in Brussels (Be).
Journey to the End of the Night (Voyage au bout de la nuit, 1932) is the first novel by Louis-Ferdinand Céline. This semi-autobiographical work describes antihero Ferdinand Bardamu.
Bardamu is involved with World War I, colonial Africa, and post–World War I United States (where he works for the Ford Motor Company), returning in the second half of the work to France, where he becomes a medical doctor and establishes a practice in a poor Paris suburb, the fictional La Garenne-Rancy. The novel also satirizes the medical profession and the vocation of scientific research. The disparate elements of the work are linked together by recurrent encounters with Léon Robinson, a hapless character whose experiences parallel, to some extent, Bardamu's experiences.
Voyage au bout de la nuit is a nihilistic novel of savage, exultant misanthropy, combined, however, with cynical humour. Céline expresses an almost unrelieved pessimism with regard to human nature, human institutions, society, and life in general.