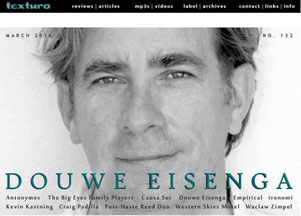 The March edition of the internet magazine Textura gives ample attention to my music. In one long, extensive review the magazine discusses the albums The Writer, his Wife, her Mistress, The Piano Files, Simon Songs and House of Mirrors.

Here are some quotations:
"Eisenga possesses the uncanny ability to write expressive, high-quality music capable of appealing to discerning listeners of all ages...."

about House of Mirrors
"Motion,  a splendid example of the composer's engaging style and PADS' high-energy attack...."
"Kick, a ravishing, sixteen-minute travelogue..."
"No better argument for the superior calibre of his music is needed than Passacaglia......"
about The Writer, his Wife, her Mistress
"As the setting unfolds the appetite's whetted for material of a more animated nature, which spirited pieces such as Arrival and The Linesatisfy most capably; nowhere, by comparison, is the recording more heartfelt than during the lovely closer Triangle....."
about Simon Songs
"Eisenga's distinctive voice is audible throughout, and the elegant, melodically rich settings speak with an immediacy that's hard to resist..."
about The Piano Files
"The material chimes incandescently as its interlocking patterns escalate in volume and intensity, and the piece grows ever more hypnotic as piano layers are added. As fine as they are, the other pieces can't help but be overshadowed by a piece so towering..."


Read the complete review of Textura here.