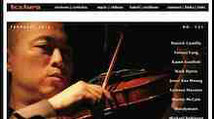 In the Februari Edition of Textura the new album Rhythm of Silencefrom Erika Tazawa has been chosen album of the month! Besides this the site published a review about the cd. 
Here are some quotes:

"Realized superbly by Erika Tazawa, Rhythm of Silence presents a wonderful programme of contemporary solo piano works by composers from the US, Italy, and The Netherlands.....On this fifty-five-minute collection, Tazawa, playing a Ravenscroft piano, performs works by Francesco Di Fiore, Douwe Eisenga, Marc Mellits, Matteo Sommacal, and William Susman"

"... the most affecting piece is Dutch composer Eisenga's "Theme from Wiek," a wistful, Schubert-esque setting whose aching lilt leaves a lasting mark, especially when it stretches out for eleven exquisite minutes".
Read the full review here.